This year I decided it was going to be a Homemade Halloween. Growing up I loved that my mom made our costumes. So this year I decided to start the tradition to make Genevieve's costumes homemade from here on out.
So here we are:
Genevieve is a little lady bug and I am a skeleton (baby and all)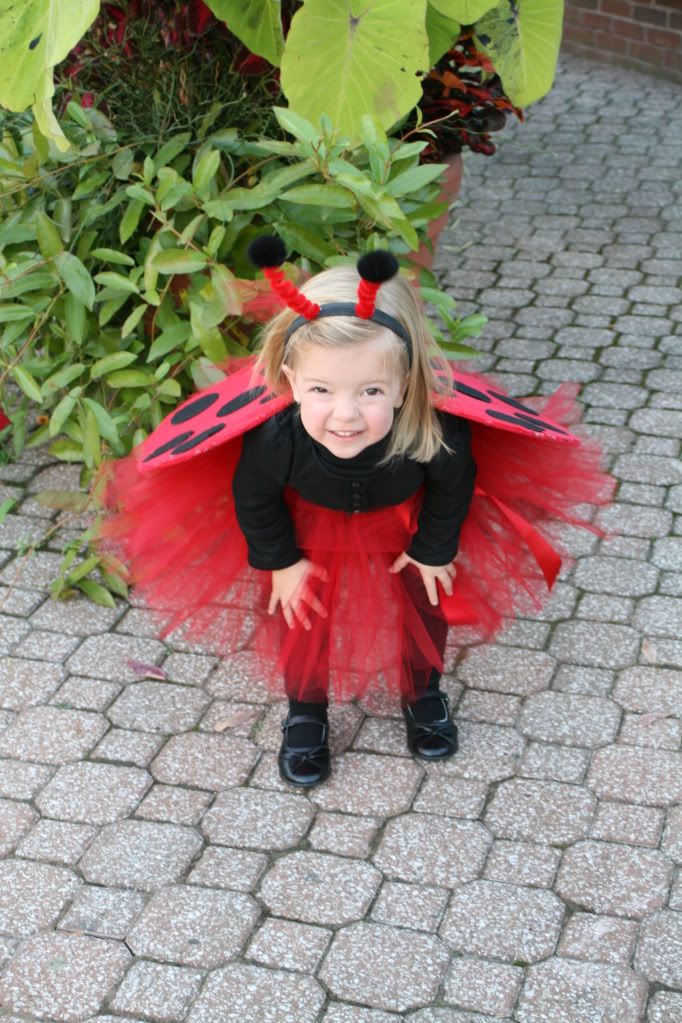 Our little lady ready to go to the special zoo event
I made a no-sew tutu skirt for the costume. I opted not to put spots on the skirt, it just didn't seem to need them. (there are so many tutorials on the Internet if you are interested in making a tutu for your little one)
For the antennas, I found a package of three headbands at the do.llar store and purchased some pipe cleaners and fuzzy craft balls....add some hot glue into the mix and there you have it! Genevieve and I had so much fun making the lady bug one, I let her pick from the other two color headbands and pipe cleaners and we made a second set for her to play with...we call them her funny bug.
And those wings...oh my, they were a little more challenging. I used wire hangers to shape the wings. I first made them too big and had to redo them. Trying to figure out what to use for the red of the wings was the challenge. First I tried tights...I even purchased 1xl-2xl and they wouldn't stretch. They I tried more tulle that I used for the skirt....well that was too see through. SO, finally I remembered that my husband has a red tee shirt and it was the perfect size! He was a little hesitant to let me cut up his shirt...but we convinced him otherwise. Once I had the tee in hand, it was all hot glue gun from there! The little black spots are felt circles I cut out. Then add a little elastic and there you have it! The cutest little ladybug there is!
In September I started searching for a Halloween maternity shirt and found a few, but most importantly saw a skeleton one with a baby fetus...but I was not willing to spent over $30 on it! So I just blew it off and said I didn't need a special shirt. Then one of the blogs I follow, G.et Your Craft.On, posted
this
....it was that same skeleton I saw before. But this time it was just the iron on and much more reasonable. Well, It was too late for me to order something to iron onto a shirt. So again I just blew it off and said oh well, I don't need a special shirt. THEN another bog I follow, M.ake It and L.ove It, posted
this
. PERFECT! I already had a roll of freezer paper sitting in my pantry waiting for the perfect project to try out stenciling with. So on Friday I went to the store and purchased a men's long sleeve black tee for $7. I burned the midnight oil Friday night, 1:30am to be exact, to create my skeleton shirt. It was a lot easier then I thought to use the freezer paper stencil idea. You should try it! I LOVE the way it turned out!!! And it was dry just in time for us to go trick-or-treating at the zoo.
I really do love how both of our costumes turned out. We had SO many compliments at the zoo and trick-or-treating the next day. I was so proud to tell people I made both costumes when they asked. I even had several people tell me that Genevieve's ladybug costume was the cutest one they had ever seen...better then the ones at the store. Love it! We will defiantly be doing homemade costumes from here on out!